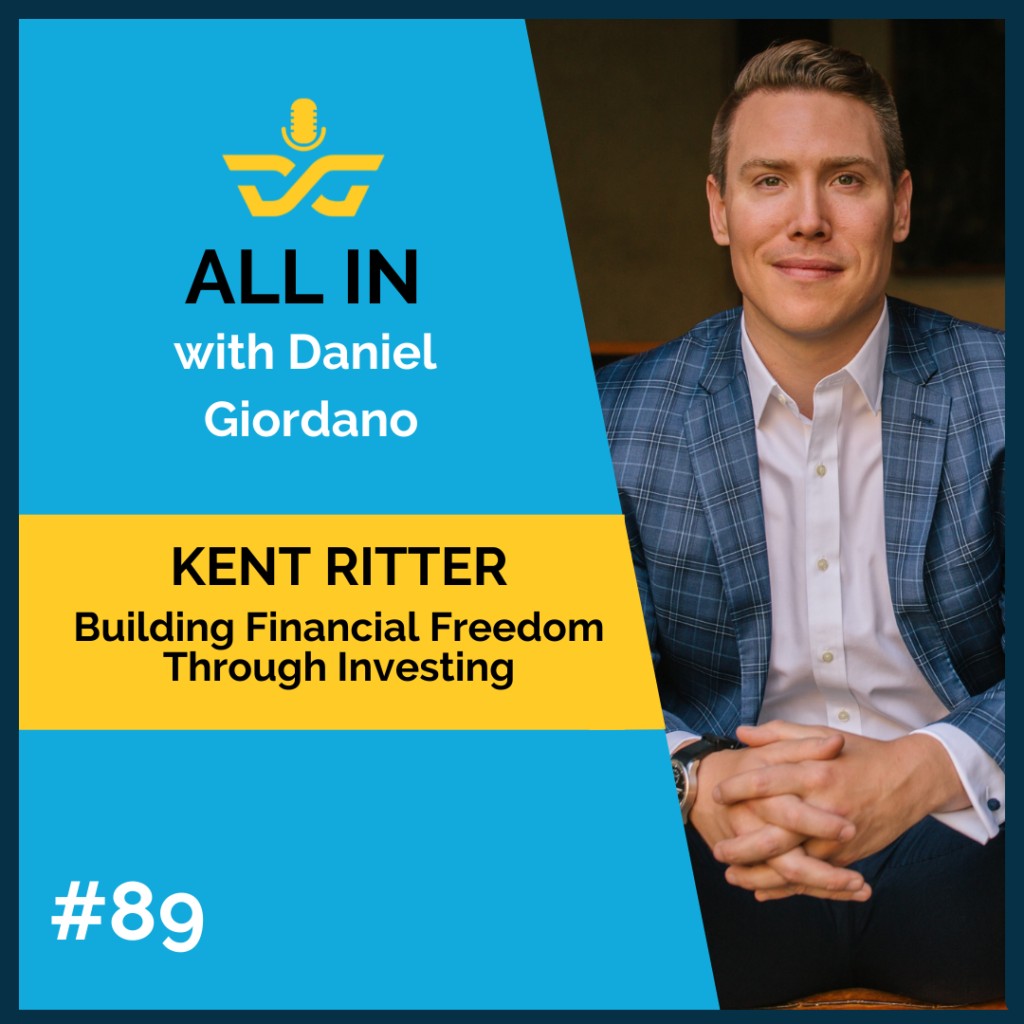 89: Kent Ritter, Multi-Family Investor and Host of "Ritter on Real Estate"

Daniel Giordano
If you're trading precious time for a paycheck, Kent Ritter's story is one you might want to consider. Previously a successful management consultant bringing down a hefty paycheck, he came to a personal crossroads after the birth of his first daughter. Sitting on a tarmac, about to take off on a four-day business trip, he asked himself: "Is this the kind of dad you want to be?" The answer was a resounding "no" and a new chapter was born. He decided to take an entrepreneurial risk by starting his own real estate investment firm. Everyone thought he was crazy, but he nonetheless ploughed forward, doing his homework and eradicating self-limiting beliefs (which can be a challenge).
Today Kent's multi-family real estate investment concern is growing exponentially and his quality of life is where he wants it: Within his control. Moving the focus to practical advice for those interested in undertaking a similar journey, Daniel asks Kent about how he took his first steps, the foundation he built, lessons learned and the big vision ahead. It's a conversation that doubles as a call to action: Don't delay. "If you're sitting on the fence, waiting for some moment or sign that's going to tell you to get started, this is it," says Kent. "That's the sign! Get started!"
 
About Kent, growing up in Indianapolis as a true-blue basketball fan with a hunger to have a little bit more in life. He initially worked in the tech and healthcare industries, advising companies on raising capital, developing strategies and assessing opportunities. In recent years he sold his consulting business and turned full-time to real estate investment, which is a passion.
What it was about real estate that captured Kent's imagination and compelled him to go all-in. It checked a lot of boxes for him, including appreciation and tax advantage. He started out passively investing and a whole new world opened from there.
For those potentially interested in real estate investment, Kent shares a bit about his first steps:

He started out by investing with partners, which offered a learning resource.
He worked with different sponsors who afforded him a spectrum of experience.
He began listening to podcasts and quickly added books and conferences.
He went through two mentorship programs, which have been helpful.

Kent's Defining Moment: He was a management consultant who had recently sold his business but was still employed by the parent company. Sitting on the tarmac early one morning, headed out of town on a business trip, Kent realized that he didn't want to be the dad who missed all his children's milestones. It was time to find a different professional path that would keep him closer to home.
Management consulting was very lucrative and financially secure, so it was a huge shift to leave that path and go out investing on his own.
Kent's perspective on bumps in the road is that with real estate it's all about problems and how well you can remediate them. So he built plans but a lot was speculative and the learning curve was steep the first year or so.
Bouncing back from challenges: Second only to fire, water is the biggest liability in residential real estate. Receiving a bill that was three or four times what was projected on historical records, Kent had to get into detective mode. Figuring out and remedying the source of the building's leak taught him lessons that serve him well to this day.
Kent's Big Vision: Just to continue growing, scaling and putting into actions lessons he learned while working 15 months for a mentor at a large family-owned private-equity firm. He considers that his real estate MBA!
Having to trade time for money can limit your ability to be the parent or community member you want to be. Whatever your goal (early retirement, more vacations, sending your kids to college) there's a path to get you there. But you have to take action, which starts with getting past self-limiting beliefs.
Two Pieces of Parting Advice:

Your family and friends aren't going to be the ones to tell you to jump off the cliff, so you've got to seek out people with a similar mindset, entrepreneurs who are doing things differently than the mainstream.
Don't delay. Take action. Done is better than perfect.
It's Kent's belief that multi-family real estate is the best risk-adjusted return out there. It's stable, cash flows, it appreciates and he's experienced more wealth in the real estate market than in all the years than all his years in the stock market.
"Real estate checked all the boxes for me. It provides cash flow, it appreciates, it's a great inflation hedge and there's a lot of tax advantages. So I started out investing."
"I realized I have a beautiful wife and baby at home and I'm going to fly off to some other city somewhere and not see them for four days … As the plane was taking off I just had this heartsick moment of realization that that's not the dad I want to be."
"It was a huge shift to leave all that financial security behind and start investing and building a business on my own. Everybody thought I was crazy!"
"Real estate is all about solving problems. That's really what it's all about and it's not if you'll have a problem, it's when. Mitigating and solving those problems will determine how successful you are."
"If anyone tells you they have a clear crystal ball, they're lying to you. You're going to run into things."
"(The future vision) is really just about scaling up, it's about finding good people to partner with from an equity standpoint, finding great properties and hitting returns out of the park for our investors."
"I've had to get over a heckuva lot of limiting beliefs in my head to be able to do what I've done. Limiting beliefs in myself and those of others."
"I'm a recovering perfectionist. I have a podcast – "Ritter on Real Estate" – and if I was waiting for that thing to be perfect, I would still be waiting … It's all about improving through iteration. You do it and get better over time."
"If you're sitting on the fence, waiting for some moment or sign that's going to tell you to get started, this is it. That's the sign! Get started!"
"Whether you invest with somebody else or do it yourself, I think there's space in everyone's portfolio for real estate."
Kent is a former start-up owner and corporate executive turned real estate investor and multifamily operator. He's on a mission to empower others to take control of their financial future, while making a positive social impact, by providing modern, affordable housing to America's workforce.
Kent believes that good investing starts with education so he hosts a successful podcast, called Ritter on Real Estate, where he interviews the pros to teach you how to invest like a pro! Additionally, Kent hosts a monthly multifamily investing meeting in his home town of Indianapolis. 
Contacts for Kent:
Website: www.kentritter.com
Email: paige@hudsoninvesting.com
https://www.facebook.com/Ritteronrealestate
https://www.linkedin.com/in/kentritter/
https://www.instagram.com/ritteronrealestate/
About the All In Podcast Show:
The All-In Podcast Show presents top Entrepreneurs, Innovators and World Changers willing to share their breakthrough moments and how they are changing the world. Focused on being "All-In" on the four areas of life: faith, family, finances, and health, host Daniel Giordano invites mentors who exemplify balance and a commitment to building a bold life of excellence.
Previous episodes of the The All-In Podcast  can be found here.
Recommended Podcast Episodes:
Sign up here to receive weekly updates on the show, including a preview of our guests for the upcoming week.